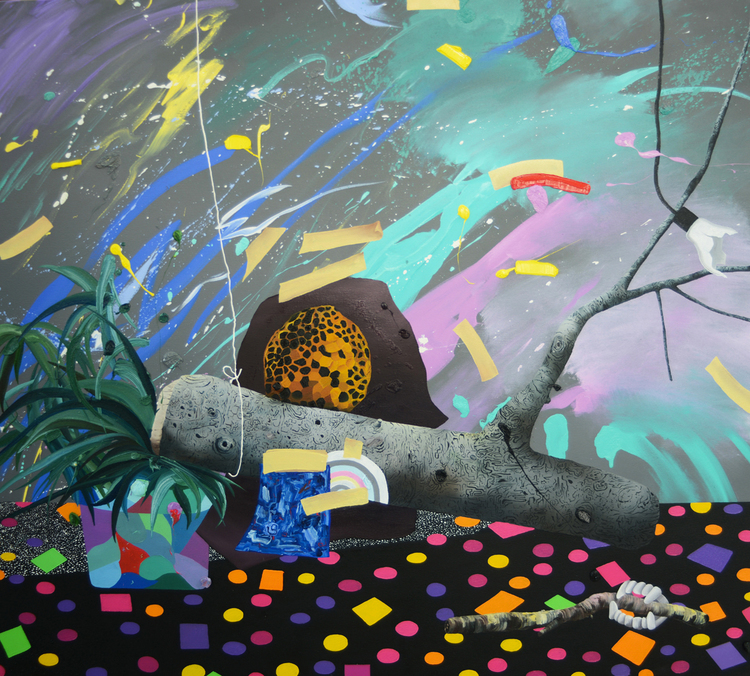 April 21 - May 19, 2018. Opening reception: April 21st 7-10pm.
AM Gallery is pleased to announce its inaugural exhibition, "paintings," by Craig Kucia. Born in Cleveland, Kucia's blue-collar upbringing continues to inform his practice, wherein everyday objects and ephemera fuse with art historical references, weaving together memories from his past with the interests of his present. These idiosyncratic combinations of low and high culture manifest in a variety of forms: from a ceramic flowerpot decorated with a Philip Guston painting to a Piet Mondrian grid repurposed as a floor tile.
Counterbalanced by a lush palette and deceptively naïve imagery, Kucia quite literally peels back the wallpaper of everyday life, revealing past lives and unexpected moments of tragedy within the mundane. When combined, seemingly banal objects serve as biographic evidence, relaying a history of the owner through their relationship to material culture. Much of this evidence Kucia takes from memory and personal experience, however, he invites viewers to project their own associations and interpretations onto the work. In this way, the malleability of reception is explored, and these paintings do not tell one linear story, but rather a multitude of stories as determined by their audiences' predilections.
Kucia earned his BFA from the Cleveland Institute of Art and a postgraduate diploma from the Chelsea College of Art in London. He has exhibited at GreeneNaftali, Roberts & Tilton, Blum & Poe, Derek Eller Gallery, Marlborough Gallery, and Shaheen Modern and Contemporary Art. Kucia's work has been acquired by The Progressive Art Collection, Cleveland, Ohio; the Perez Art Museum, Miami, Florida; the High Museum of Art, Atlanta, Georgia; and the Mugrabi Family Collection. Craig Kucia lives and works in Los Angeles.